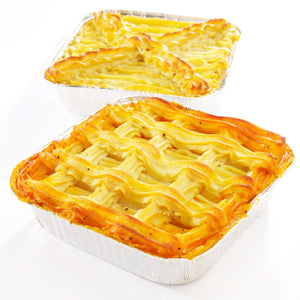 Chunky chicken meat, cooked with onions, celery, carrots, mushrooms and fresh herbs, in a rich tomato and cream sauce. The cooked filling is then topped with a generous layer of mashed potatoes, and baked to golden brown perfection.
Comes in 2 sizes:
- Family-Size (20cm square) ; Serves 6-8pax  
- Medium Size (14cm round) ; Serves 2-4pax
- 
Images for reference only. For delivery or last minute orders (less than 3 days notice), please call us at 9646-5372 to place your order.