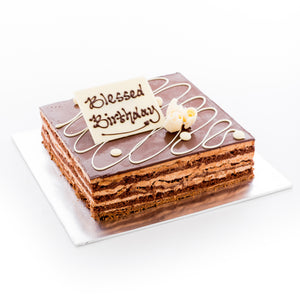 Chocolate sponge cake layered with hazelnut buttercream, with a layer of crunchy feuilletine on the bottom. 
Best eaten when thawed sufficiently at room temperature.
-
As all our cakes are handmade by our in-house team of chefs, each cake is unique & may not look exactly like the photographs.

For customised cake designs or last minute orders (less than 3 days notice), please call us at 9646-5372 to place your order.