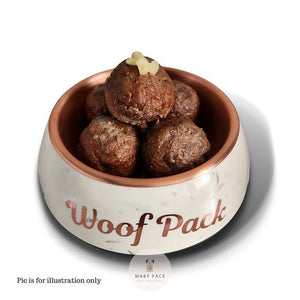 ~6pc meatballs/pack (30g each; kept frozen).
Our meatballs are hand-made using fresh minced meat and assorted vegetables, and oven-baked to perfection! It can also be served as a meal topper, & delicious treat to provide additional nutrients to your furkids!

Ingredients: 100% minced meat, peanut butter (no added sugar & salt), carrot, wholegrain flour, egg, olive oil, oregano, parsley (100% human grade, with no additives or preservatives added.)
Image for reference only.

Meal will be kept frozen.