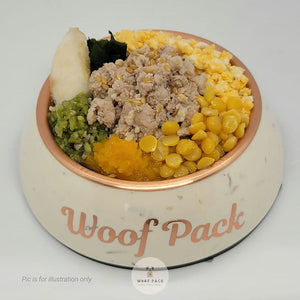 Pork is a highly palatable meat source packed full of healthy vitamins and minerals such as niacin, phosphorus, potassium, magnesium, amino acid and vitamin D. It is absolutely essential to canine health and is vital in regulating the calcium and phosphorous balance in your furry's body.

Ingredients: Pork, pear, carrots, green beans, olive oil, pork liver, pumpkin, egg, organic chickpeas, apple, spinach, enoki mushrooms, organic golden flaxseed powder, kelp, eggshell powder, broth. (100% human grade, with no additives or preservatives added.)
Image for reference only.

Meal will be kept frozen.